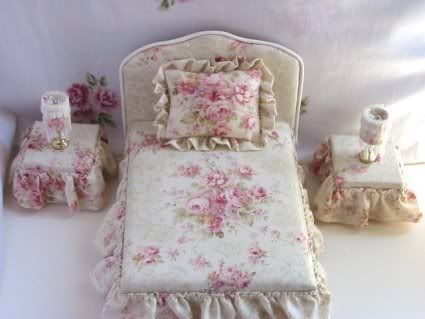 This is one of the first bedroom sets that I made and I was thrilled when a lady that lives in Spain bought it. I think this was my first International sale. There's not any hand painting on it, but I make lots of minis that aren't hand painted. I just love making minis period!
I made the bed and nightstands of heavy cardboard, padded and covered with fabric and made ruffles. The lamps were purchased for like 99 cents each, cheap metal with gaudy painting on them. I covered the shades with fabric and made beaded fringe and added some tiny venise lace around the top. Changed them completely!
You'll probably notice that I make most of my minis in a cottage or victorian theme. I'm an old-fashioned gal, and don't do much in the modern trends. I love roses and ruffles.